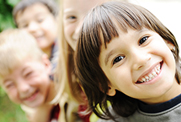 Saint Paul's is now accepting registrations for children ages 2-6 for the 2017-2018 school year!
Enrollment at St. Paul's is based on a first-come, first-served basis, dependent upon age and developmental appropriateness. Registration is first offered to St. Paul's Episcopal Church members, then currently enrolled student and siblings, followed by families from the community. St. Paul's does not discriminate on the basis of race, color, religion, or national or ethnic origin. (Please note that children ages 3 and up must be potty trained to attend St. Paul's Episcopal School.)
Contact us for more information or to schedule your private tour today!
To Register
Complete the Online Registration Form.
Submit the $175 Registration Fee. Checks may be mailed or delivered to:
Keri Lambert, Saint Paul's Episcopal School, 420 South Coit Road, Prosper, Texas 75078. At this time, we do not accept payments online.
Please note: A place will not be reserved prior to receipt of both the 1) completed registration form and 2) registration fee. If requested, students for which a space is not available may be placed on a wait list. Class openings are filled on a first-come, first-served basis; any openings will be filled from the wait list in the order in which they were placed on the list. Please note that all registration fees are non-refundable.
Enrollment
After a completed registration form and the registration fee is received, a spot will be reserved in class and Enrollment packets will be given and/or mailed.
To confirm enrollment for 2017-2018, we must receive the completed forms from the packet and the additional required documents by August 1, 2017, along with August's tuition payment (which equals 1/2 of a month), or the child's spot will be released to the next student on the waiting list.
There are no supply fees or other additional fees; registration fees and tuition are the only monies assessed.