Director, Keri Lambert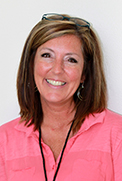 Keri has a passion for helping children discover their gifts and talents. She comes to us most recently from her previous position of director of an aftercare program, and has a strong background in managing students with compassion. Her training in addressing children with special needs will be an asset to our program and our students. Keri is excited to get back into the classroom and help our students grow and thrive. She and her family are also members of St. Paul's Episcopal Church and are very supportive of this ministry, having watched it grow from the very beginning.
Our Faculty
Lead Teacher (TK) – Stacia O'Connell — Stacia is a graduate of South Dakota State University and has taught Kindergarten for 17 years, 10 of which were with Frisco ISD. She looks forward to continuing her teaching path at St. Paul's working with our Transitional Kindergarten students. Her extensive experience with Kindergarten students has equipped her to meet every child's needs and get them ready for the next step on their educational journey. She married her high school sweetheart and has two wonderful children, an 8th grader and a 6th grader. In her spare time, Stacia enjoys cheering on her children at their sporting events, spending time with her family watching movies, hiking, biking and exercising; as a family, they love to be outdoors and be active. She is thrilled to now also be a part of the St. Paul's family!
Lead Teacher (PK3) – Jennifer Chapman (Monday/Wednesday/Friday) — Jennifer has always had a strong passion for teaching. She received a B.S. in Elementary Education and has held certifications in Early Childhood Education through 8th grade. She taught in elementary schools in both Texas and Alabama. After taking a break from teaching to stay home with her three children, Jennifer began teaching preschool, and considers it a gift to be a part of a child's foundation of life-long learning and spiritual growth. Jennifer also leads the 123 Children's Ministry at St. Paul's Episcopal Church (her home parish) for children in grades 1st through 3rd. Jennifer has been honored to be a part of this school from the very beginning, as it has been in her prayers since before construction even began, and her entire family is invested in the success, outreach, and fruitfulness of St. Paul's Episcopal School.
Lead Teacher (PK4) – Amanda Ventura (Monday/Wednesday/Friday) — Amanda comes to St. Paul's with over eight years of public elementary classroom experience. She is certified from Early Childhood through 4th grade, as well as in Language Arts and Reading for 4th through 8th grades. She has an innate passion for teaching and enriching young minds, and feels fortunate to be able to pursue that passion in a faith-based environment. She was raised in the Episcopal church and comes prepared to share with her students the same foundation and love for God that was instilled in her as a child.
Aftercare – Shelby Feely is our Aftercare Lead Teacher.
We are now accepting teacher applications for 2017-18. We hire lead teachers who have educational experience and hold college degrees, preferably in the educational field. As enrollment demands, we will also be hiring teaching assistants with backgrounds in education. We are currently also hiring substitute teachers.
If you are interested in joining our St. Paul's Episcopal School team, please visit our Employment Opportunities page for current job openings and a link to the SPES Employment Application.