St. Paul's Episcopal Church is a plant of the Episcopal Diocese of Dallas, ministering in the Prosper and Celina areas. The Rt. Reverend James M. Stanton commissioned St. Paul's as a mission station on August 1st, 2007. In early 2009, St. Paul's Episcopal Church acquired 7.14 acres of land at the southwest corner of Coit Road and First Street in Prosper, Texas. At that time, the congregation of St. Paul's asked God through prayer how best to use the property to bring people to Him, to serve the community, and to glorify His name. The answer that was universally received was, "Build a church and a school." God's vision is now becoming a reality: a place for worship on Sunday and a school that both educates the children of this community and prepares them to be disciples of Jesus. St. Paul's broke ground in November, 2014, and held their first worship service in the new facilities on August 9, 2015. St. Paul's Episcopal School opened on August 25, 2015 for its inaugural 2015-2016 school year.
In Luke 18:16-17, Jesus says to his followers, "Let the children come to me, and do not hinder them, for to such belongs the kingdom of God. Truly I say to you, whoever does not receive the kingdom of God like a child shall not enter it."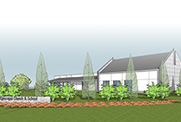 St. Paul's Episcopal Church and School is a place where children learn about their world and about God, Jesus and the Holy Spirit. The building is a physical sign of the good news that God has asked be proclaimed; St. Paul's is a church and school that teaches, lives and proclaims that all adults and children alike are children of God and are recipients and stewards of His grace and blessings.